Did you know that Spa Massage Services are more than just relaxing or also known as Swedish Massages?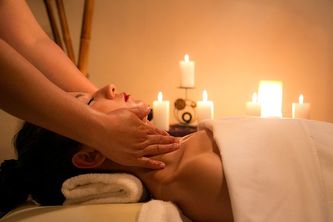 Swedish Massage- There is a reason why Swedish Massage is one of the most popular techniques in massage. Why is it one of the most popular? Simple.. It's relaxing in fact what most people do not know is that relaxation massage is actually designed to stimulate nerve endings in the most efficient of ways and this is why you feel so good after a massage. One of the largest contributing factors to this is the release of endorphin's (basically makes you feel amazing like on morphine). Other huge benefits include the increase in your oxygen levels within the blood, decreasing muscle toxin buildup (lactic acids) which causes your muscles to not want to release properly, enhancing blood circulation as well as flexibility at the same time releasing tension throughout the entire area.These specialized techniques are accomplished simply by rubbing or stroking your fatigued muscles using well placed long gliding strokes towards the direction of blood returning to your heart. This is very important easy way to remember this is for limbs push towards the heart or main body. If you push away from the limbs you can actually damage blood vessels and cause many complications in the features this is why it is so important to know what you are doing.
Did you know that Deep Tissue Massage can be integrated into Swedish massage? If done properly deep tissue work can be extremely relaxing as well as beneficial to your overall health. For instance many have calves issues but don't even know that they do until you press into the area. this is because your brain tends to cover up many areas and only focus on one dominant issue otherwise you would be overloaded with signals. What's amazing is experiencing this pressure if done properly your calves will feel amazing as you interrupt the actual pain process you never even knew you had as well as making the calves feel lighter as if a weight being lifted off the bone.
Did you know that epsom salt baths are one of the greatest tricks you can use at home for overall health? Should you decide to receive an integrated technique session we recommend that you take an epsom salt bath as well. In order to purge the toxin build up (lactic acids) we mentioned earlier from your system. This is because when you release muscles or increase circulation you will always break up dormant bio mass which will generally have stored toxins or waste products which need to be removed one of the most invasive of these processes is simply by adding 2-4 cups epsom salt into your bath tub and use as hot of water as you can stand comfortably and soak for 10-15 minutes then simply get out wipe off and done!
These specialized techniques follow out beliefs that everything has a sequence or a place such as if you want to relax then we believe you should benefit further as well. Giving a massage where you can fall asleep but also eliminate aches and pains. This is generally only possible through deep tissue modality techniques which is why it takes skill, experience as well as understanding in order to pull these integrated specialized techniques off.
---